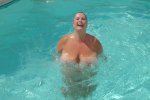 Afternoon Voyuer Swim HD
9min - 298.1 meg - 1280x720

It gets so hot in the evenings I can't wait to get home and jump in the pool. I made it home a few hours before sunset, changed into some lingerie and jumped in. The water was cold and I swam around a little with lingerie on until I got warm then got completely naked. I was home alone and no one was there to see me but but it felt like someone was there watching me. My backyard is open so anyone could peek over my wall. I wonder if anyone ever does. This 1280 X 720 HD video is 9 minutes and 52 seconds long.


$9.00