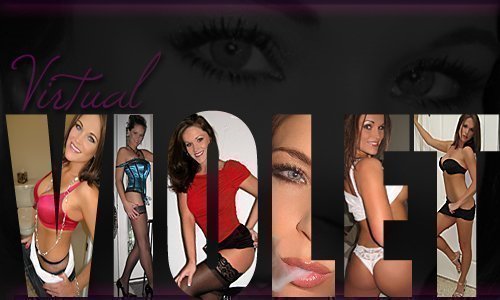 Photo Page
Welcome to my Photo Page!
Thank you for taking the time to stop in.
Hopefully you'll be back for more!
Because this is where all the teasing begins.
Below are 3 sets of pictures for you to start with
of course they are on the tame side.
But rest assured once you cross over to the member's area
you will see all the intimate and hard-core pictures,
of these 3 sets and all of the past sets.
I'd love to hear what you think, and what you'd like to see.

virtualvioletsc1@gmail.com
Photo Updates
Previous Photo Updates

The sets below are now found in my members area, along with the continuation
of the issues above. If you would like to see all of my "GOOD" pics, just click
here for instant access to my Members Area.
| | | | | |
| --- | --- | --- | --- | --- |
| | | Photo Issue 491 | | |
| | | | | |
| Photo Issue 490 | Photo Issue 489 | Photo Issue 488 | Photo Issue 487 | Photo Issue 486 |
| | | | | |
| Photo Issue 485 | Photo Issue 484 | Photo Issue 483 | Photo Issue 482 | Photo Issue 481 |
| | | | | |
| Photo Issue 480 | Photo Issue 479 | Photo Issue 478 | Photo Issue 477 | Photo Issue 476 |
| | | | | |
| Photo Issue 475 | Photo Issue 474 | Photo Issue 473 | Photo Issue 472 | Photo Issue 471 |
| | | | | |
| Photo Issue 470 | Photo Issue 469 | Photo Issue 468 | Photo Issue 467 | Photo Issue 466 |
| | | | | |
| Photo Issue 465 | Photo Issue 464 | Photo Issue 463 | Photo Issue 462 | Photo Issue 461 |
| | | | | |
| Photo Issue 460 | Photo Issue 459 | Photo Issue 458 | Photo Issue 457 | Photo Issue 456 |
| | | | | |
| Photo Issue 455 | Photo Issue 454 | Photo Issue 453 | Photo Issue 452 | Photo Issue 451 |
| | | | | |
| Photo Issue 450 | Photo Issue 449 | Photo Issue 448 | Photo Issue 447 | Photo Issue 446 |
| | | | | |
| Photo Issue 445 | Photo Issue 444 | Photo Issue 443 | Photo Issue 442 | Photo Issue 441 |
| | | | | |
| Photo Issue 440 | Photo Issue 439 | Photo Issue 438 | Photo Issue 437 | Photo Issue 436 |
| | | | | |
| Photo Issue 435 | Photo Issue 434 | Photo Issue 433 | Photo Issue 432 | Photo Issue 431 |
| | | | | |