Champagne's Photo Page
Your journey into my Fantasy World begins here!
WELCOME to My Site & Photos!
I appreciate you visiting my site on Southern Charms and genuinely hope that you will find my Still Photos and Updates to your Liking and Enjoyment. Having now been on Southern Charms, and in the Adult Industry, for seven years, I have never had a more enjoyable time in my life. Being a MILF, and also a GILF, has led me to have many enjoyable sexual experiences with a variety of both Men and Women! It has also led me into the opportunity to be involved in the mainstream porn world with a few major production companies, including XXX Product on the Internet, DVD's in Adult Book Stores, and some Major Men's Magazine shoots too!
Let me entertain you, and Your XXX interests, here on Southern Charms, by becoming a Member of My Site. (Click Here) By doing so, you will then have full access to the best of my XXX rated photo updates, which "always" have the most revealing shots of my photo stills. I assure you that I work very hard to provide you with Quality Photography; and with enough Quantity in each update to fully please you and keep! you Cumming Back for more ! Also, and as An Added Bonus, By Becoming a NEW 3 month or 6 month Member of My Site (Join Here), you will receive A BONUS FOR FREE! Any NEW MEMBER joining on either a 3 month or 6 month membership will receive a FREE VIDEO of their choosing from my SC VIDEO PAGE (Click here) with a purchase value of $10 or less. Over 25 to choose from which are valued at $10 or less. Join Here (Click Here) NOW! Once you join, simply email me with your New Members #, Your Email Address, your Free Video Title Selection, and "Your Mailing Address". Once your New Membership has been confirmed by me, then I will put your video selection on a DVD or CD and hard copy mail it to you.
On my site you will also find me providing Streaming XXX Video Productions on the Southern Charms Video Page.
I Now Post a Brand New Video Every Week.
(Click Here NOW) to see my Newest One! I guarantee you it is HOT!
If you are already a Member I fully appreciate your willingness to have become one. If you elect to become a New Member, I welcome you and hope you find the experience of being one of my members fully to your liking and enjoyment !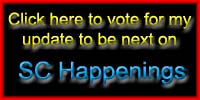 Just for You
Champagne